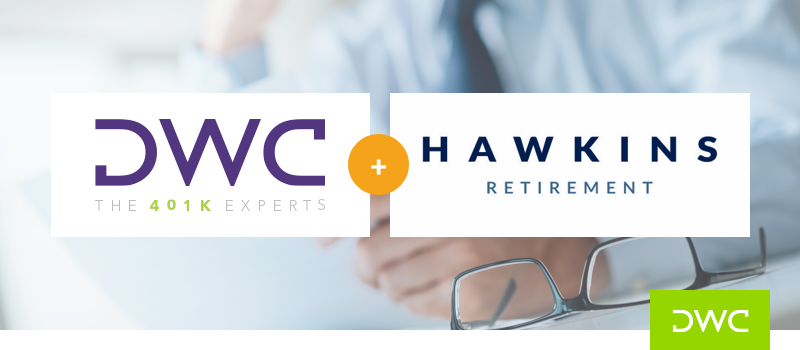 It's official: DWC is uniting with Hawkins Retirement, a Utah-based firm that provides comparable 401(k) plan compliance, defined benefit services, and consulting services (third-party plan administration), under the DWC brand.
Overview
Due to the merger of Hawkins Advisors and Eide Bailly CPA firms, Hawkins Retirement was required to spin off. Over the course of the last six months we interviewed many of the top TPA/consulting firms. We selected DWC for four primary reasons:
Culture – Our cultures are very similar, both prizing dedication to service excellence and fast communication response times.
Investment advisor support – DWC requires all plan sponsors to have an investment advisor and their service delivery model recognizes the importance of the advisor's role in retirement plans.
Industry dedication – DWC is a national firm that is dedicated to the retirement industry (no conflicts of interest), as all consultants are required to maintain their industry credentials (every consultant has an annual budget for conferences and maintaining industry credentials).
Energy/vision - I have been working with DWC for some time and their energy is always high. They really care about their role of helping their clients stay compliant in their fiduciary role.
Answers to Your Questions
Will my service team change?
Your partner and consultant will not change. We are adopting DWC's service model by ensuring every client has three consultants (Partner, Team Leader, and Consultant) per team. This will provide better support for our clients and investment advisors.
Where will I log in to the client portal?
The Hawkins Retirement client portal can be accesssed on DWC's updated login page, which includes a new module for Hawkins clients. At this time, there is no change to the way Hawkins Retirement Clients can use the portal once logged in.
Are fees changing?
No. However, all invoices after September 30, 2017 will be under the DWC name.
How do we contact team members?
Our new phone numbers and email addresses are listed here. DWC is a 100% virtual company, which is a strategic advantage in the delivery of our services (competitive fees, no wasted time on commute, etc.). We are able to meet with clients/advisors at the Eide Bailly offices (formerly Hawkins), advisor offices, and your office.
Closing
Although I will miss the day-to-day contact with my partners and teammates at Hawkins, the good news is we will still work together on mutual and future clients.
I am also excited we are joining a national consulting firm with a lot of energy. Please email or call me or any team member with questions.