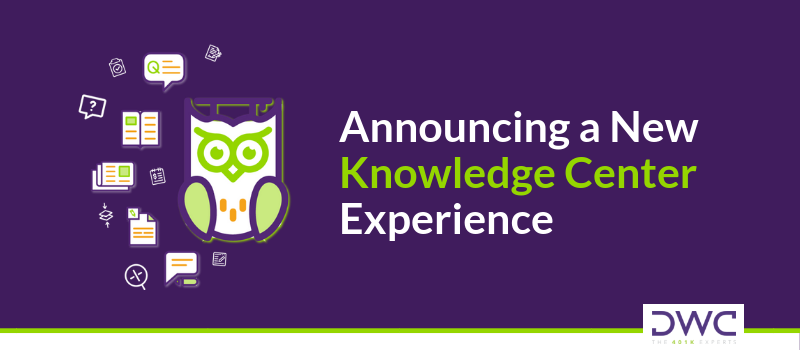 At DWC we thrive on the really geeky stuff. We place a premium on research and choose to share that knowledge. A vast majority of our industry reads summaries of regulatory developments and trends for their clients' knowledge. We actually read the laws, regulations and updates and write our own summaries in a manner that is easy to understand for our clients and their advisors.
DWC has long provided a Knowledge Center to house these insights and summaries, and now we've made a good thing better. Now, not only are we sharing articles, blog posts, and white papers (all researched and written by DWC), we have added downloadable resources and topic overview pieces; and, we've organized everything into categories to make it easier for your research needs.
Visitors to the DWC Knowledge Center will now find:
One click access to our articles and insights, broken down into the topics that matter most to you, including:

retirement plan design,
distributions,
qualified plan compliance,
plan corrections,
fiduciary duties & due diligence,
plan sponsor requirements,
the retirement plan investment menu,
and corporate structure & mergers and acquisitions.

Easy navigation to the 401(k) Q&A blog, with filters to make accessing our Question of the Week and Correction of the Quarter posts easier to find.
In the News section, highlighting all of DWC's industry commentary in your favorite publications.
A library of downloadable resources including research, reports, white papers, and checklists.

If you don't find an answer to your question or research topic, simply send us a note or submit a question to be answered in an upcoming Question of the Week (and we will answer directly.)
Our insights are often the first to the marketplace, so our audience is the first to know about the changes occurring. We update the Knowledge Center at least once a week with a new blog post, and frequently add new articles and resources. Want to stay in the know? Subscribe to receive updates.

About DWC
DWC - The 401(k) Experts is a firm providing third party plan administration, compliance and consulting services for qualified retirement plans nationwide. To learn more about DWC - The 401(k) Experts, please visit www.dwc401k.com.