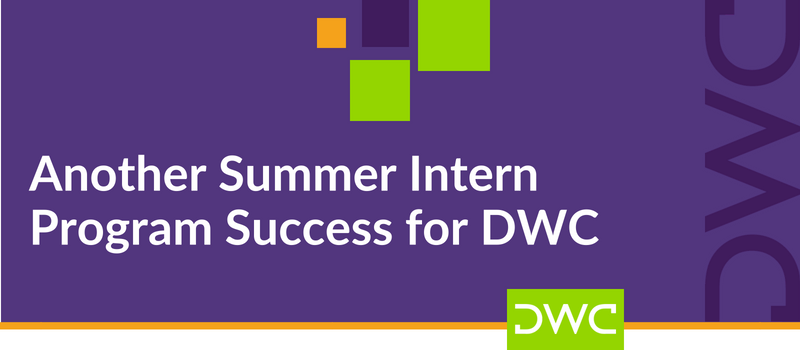 DWC is honored to announce its six 2018 summer intern consultants have successfully completed their summer program.
The program focuses on the basics of defined contribution, recordkeeping administration, compliance and investments. Junior Consultant Jeff Santelli said this of the program: "Interning for DWC has been a great experience. I am challenged with real work situations that provide me with valuable insight into the consulting and financial world. It serves as an opportunity to not only learn how the work world operates, but also to feel appreciated." John Ferguson adds: "Interning for DWC has provided exposure to real work in a financial industry and has shown practical applications for skills that I've learned in school."
Each year DWC selects three to five candidates from resumes submitted by college students across the country. Intern alumni alma maters include Harvard University, Brown University, Johns Hopkins University, University of Minnesota, University of Pennsylvania, Georgetown University, Claremont McKenna, University of Notre Dame, Boston University, and Yale University. In fact, Ben Jones, a full-time consultant today with DWC, was in the first class of interns and worked with DWC every summer while completing his undergraduate degree at Brown University and graduate degree in Maritime Archaeology at University of Southampton.
"We want our junior consultants to learn that you must perform at an A+ level on every work task with no exception," explained DWC Managing Partner Keith Clark. "An A- is unacceptable. Teaching consultants that first impressions are lasting is another key concept, which must be demonstrated by showing up on time for every meeting as well as meeting all promises. Most importantly, we want all of our consultants to learn to respond quickly to all communications. This has been another great class, and I am hoping that one or two stay in our industry."
Know a Candidate?
DWC is now accepting applications for the 2019 Summer Internship Program. To apply, email us at careers@dwc401k.com no later than March 15, 2019 using the subject line "Summer Internship Program" and include the following:
A resume in Word or PDF format with the file name format of 'Last Name, First Name – Resume';
a professional or academic reference; and,
a cover letter or email explaining why you think you are a good fit.
Meet the 2018 Junior Consultants
Nick Anderson

– A senior attending the University of Minnesota majoring in Economics (of Science). Nick is currently involved in the Economics Student Organization and is treasurer of the Men's Club Hockey Team (a also played junior hockey before retiring to focus on academics).
Sam Clark

– Back for his third year and leads our summer intern program. Sam is a sophomore attending McGill University majoring in Economics and Business after taking a year off to play soccer for Cruzeiro EC (Brazil) and Houston FC. He will be playing for the McGill University soccer team this fall.
John Ferguson

– A sophomore attending Colgate University majoring in Economics with French/Computer Science double minor. John played junior hockey with the Connecticut Junior Rangers and Tampa Juniors before retiring from hockey and deciding to focus on academic and enjoying club hockey and intramural sports.
Clayton Rae

- A junior attending Southern Methodist University majoring in History with a minor in Finance. Clayton is a member of the Beta Theta Pi fraternity, a school tour guide, investment club member, and participant in the beach volleyball club.
Jeff Santelli

– A sophomore attending the University of Southern California majoring in Business Administration with a specialization in data sciences and operations. Jeff is a member of the Tau Kappa Epsilon Fraternity.
Will Sweatt

– A junior attending the University of San Diego School of Business majoring in Economics. Will is a member of the Club Waterski Team and Club Lacrosse Team. Outside of school and work Will spends his time writing music and creating short films.