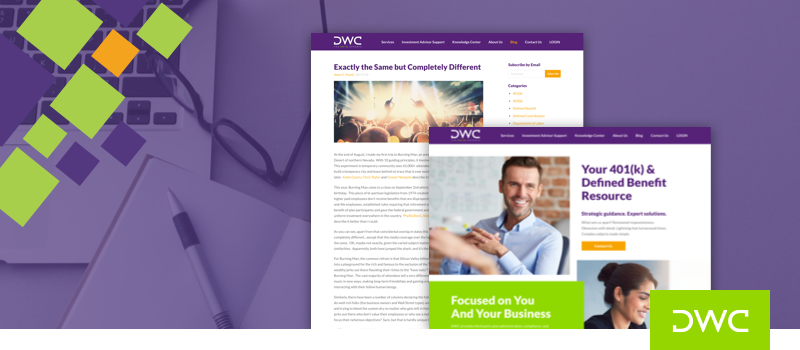 Notice we didn't say new website. Though it's true the site is brand new—redesigned and reconfigured from top to bottom for you—that's not the most important thing that's changed.

We started with a name change—not the kind that says we are hiding from our past, the kind that embraces who we are and what we do. We are DWC - The 401(k) Experts. The name, the colors, the tagline, are all bolder, brighter, and stronger.

There can be no doubt of DWC's eminence in the industry, but we wanted to make everything we do better and more accessible because relationships with our clients and investment advisor partners always have been and always will be our top priority. Here are a few examples:

Email Addresses: We have updated to the simpler-to-remember @dwc401k.com. The old addresses still work, so have no fear…your messages will get to us.

The Knowledge Center and blog: These two resources are more accessible and better organized, planting DWC's flag as a thought leader and industry advocate. The Knowledge Center houses our most asked-for articles and FAQs. You'll also want to bookmark our Plan Correction Case Studies and Question of the Week blog categories, where we'll tackle your toughest challenges and queries one by one.

Services: After getting the question "What exactly do you do?" a few too many times, we've added detailed service pages to answer it. With pages for plan document; plan compliance; defined benefit services; mergers, acquisitions and related company analysis; plan corrections; and government audits—there is no question of not only what we do but also what sets us apart in how we do it.

DWC was already renowned for responsiveness and industry-leading turnaround times. Now? You have even easier access. Subscribing to news and contacting the team is a breeze, with prominent calls-to-action on every page.

The dynamic features of the site now truly capture our proactive nature. We didn't bog things down by adding a ton of website pages. We streamlined everything, consolidating the navigation and menus, putting the important pieces out front to better serve the needs of clients and investment advisors.

We hope you enjoy discovering the new DWC as much as we've loved preparing for the debut. We're not just sitting around hoping for the best—we want your feedback. Let us know what you like, what you love, or what could use some tweaking.

Happy browsing!